Solar Pool Heating

4. WHY SHOULD I HEAT MY POOL WITH SOLAR?

A swimming pool is usually an expensive investment, which can range from several thousand dollars to tens of thousands of dollars depending on the type of pool. Most people buy a pool for recreational or exercise purposes, and usually plan to use the pool on a regular, ongoing basis, making it the center of their at-home activities. In many cases, new or existing pools have no pool heater. Some pool owners are satisfied to some extent with a very limited swimming season and naturally occurring pool temperature. Most, however, wish to heat the water and get more use out of their investment by using their pool during a longer and more comfortable swimming season. In some cases, a pool purchaser may elect to have a natural gas, oil or electric heater installed for pool heating purposes. However, the annual cost of operating these types of heaters can range from $900 to $4,000 or more, depending on such factors as the method of heating and the size of the pool. Thus, heating the pool becomes an ongoing financial drain. Most solar pool heating systems cost between $4,500 and $6,500; however, price varies on the size of the pool and other site-specific installation conditions. If solar systems are installed in order to reduce or eliminate fuel or electricity consumption, they generally pay for themselves in energy savings in two to four years. For those pool owners that desire to heat their pool, solar has been proven to be an effective method. If a pool is not already being heated, a solar system improves the comfort level and extends the swimming season. Whether or not your pool is currently heated, a solar pool heating system is a wise investment. You pay for the equipment only, because the energy source, the sun, is free.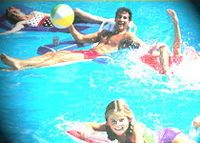 1. How do solar pool heating systems work?

2. Can my home accommodate a system?

3. What about operation and maintenance?

4. Why should I heat my pool with solar?